Build: 2.0.0000
Hey there,
Well, it's been a long, long time since the last build. As the pandemic took hold and lots of us started to work from home I decided to well, re-write the vast majority of toepoke.
You won't notice much though as it's all in the background making the site more efficient, performant and easier to change. Due to the breadth of change it's likely there are bugs, so please let me know.
As well as the re-write I've made some smaller changes along the way, so let's take a look.
Improvements
Diary changes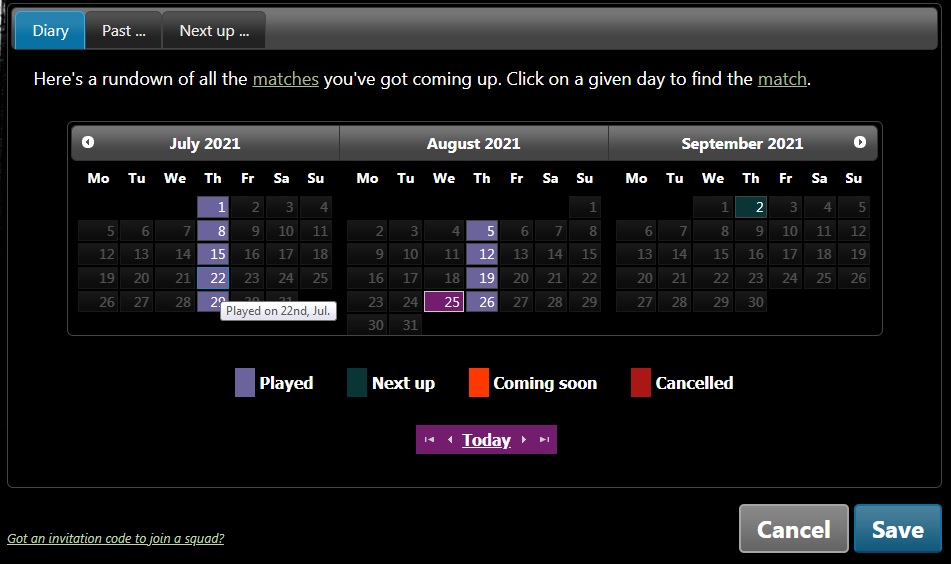 Match Closure
Once the final whistle has been blown all players will have roughly two days to add their ratings, enter the final scores, etc. before the match is closed.

This is to prevent the season table being manipulated near the end of the season.
It's also an enabler for future planned features.
Pitch & alerts changes
Sometimes your manager may make changes to the match you're due to play in.
We've always sent you an email to let you know that something had changed, in case the match was kicking off earlier and you wouldn't be able to play at the new time.
However, the decision to send you an email was rather blunt. The kick-off time may have only been 1 minute earlier and we'd still email you. Going forward, you'll only get an email about pitch changes if:
The match reminders have been integrated into the pitch edit screen. It more naturally lives there.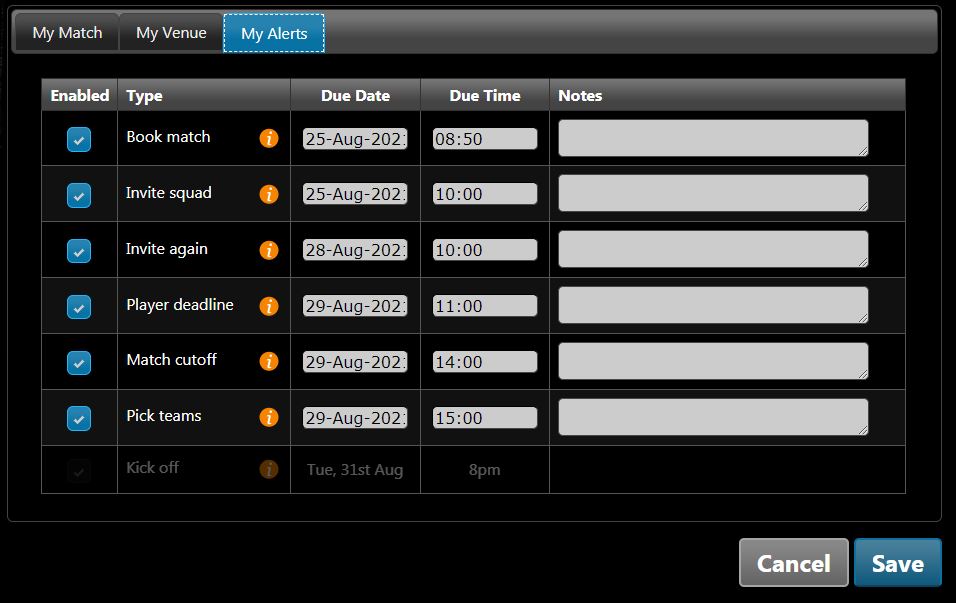 Note that the Book match reminder is at the top of the list. It used to be at the bottom.
This never really made sense and has been moved to before the invitations to the match go out. You may wish to check your existing match reminders are setup to your liking.
Adding floating players
When adding a floating player off the registrations screen, there is now an option to add the floater as in a player in the match too.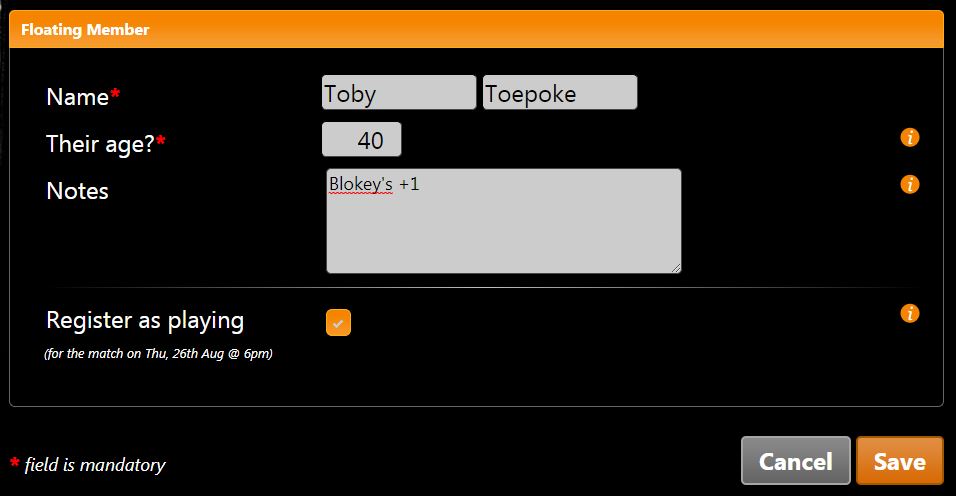 After all, you're likely adding a floating player as they're going to be playing in that match!
Team selection improvements
Previously a separate Send & Save button would save the changes and email the sides to the player.
The Send & Save option was only available once the deadline has passed. Rational being we need to give your players a chance to drop out if required. On reflection it should be up to you, the manager to decide what's best.
The Send & Save option has been replaced with a simple Email teams tick box, which is always available.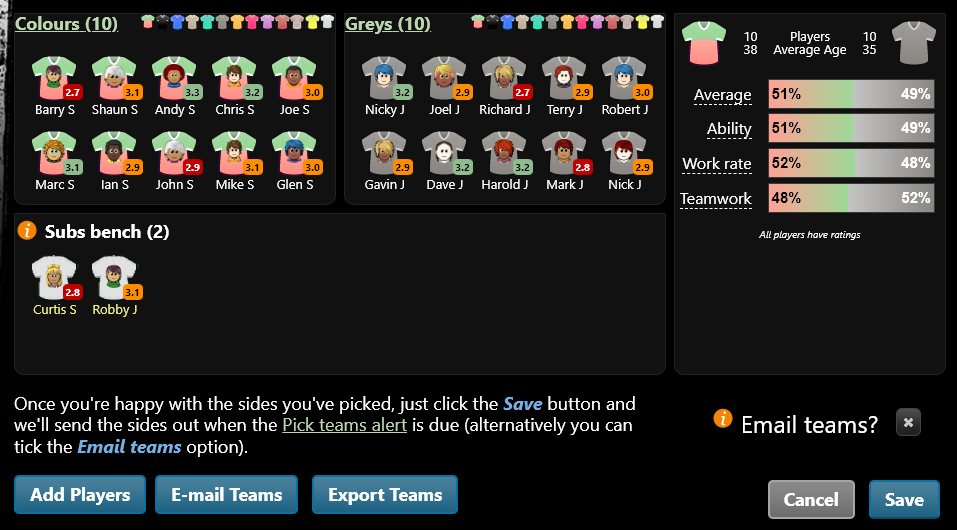 The order your players were selected is maintained. Personally I find this useful as I often pick teams by looking for players of similar abilities to match against each other. It's therefore useful to maintain the teams as they were selected for any changes later.
In addition the teams e-mail tell you who picked the sides, so everyone knows who to blame 😉.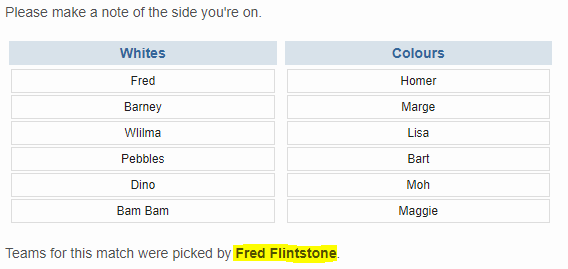 Finally you may notice a new button, Add Players. It's often useful to be able to add a player without having to navigate to the registrations screen.
Social network improvements
The change profile screen allows you to link your social networks and pick an avatar to show a representation of you to others in your squad.
The experience was a little muddled with different buttons for adding avatars and linking social networks.
This has been reduced down to a simple list showing all your linked social networks and available avatars in one place.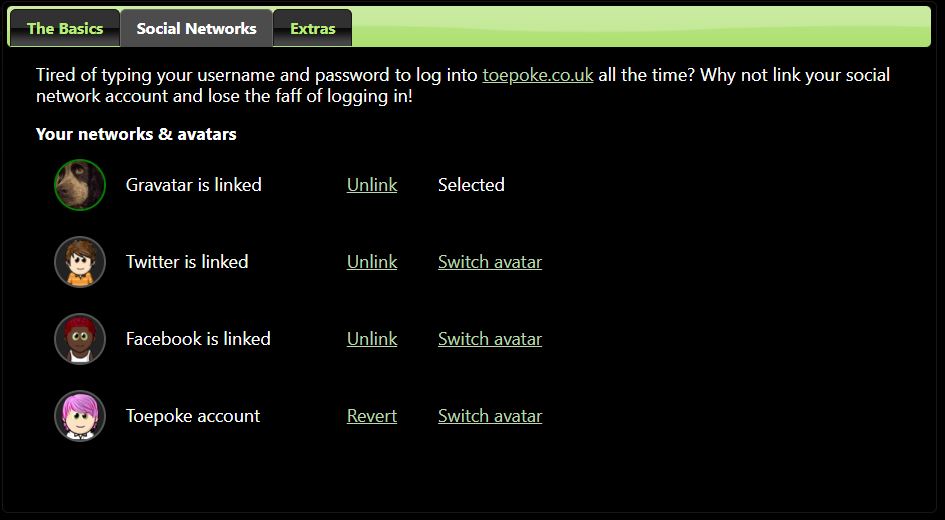 Season Table on mobile
On a mobile device the season table was cramped and didn't show all the matches (there just wasn't room!).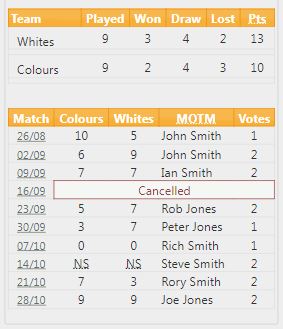 The breakdown of matches in the season have been flipped from a horizontal to vertical view.
Small Changes
Fixes
That's all folks!
As always, if I've mucked anything up, please tweet me off! 😉.
Until next time ... may your matches be full of players, and you boots stay laced up.

Team TP.
About toepoke.co.uk
toepoke.co.uk helps organise 5-a-side football games with your mates.
Every week we'll invite everyone and track who can and who can't play.
We'll remind them they're playing, help pick the sides. You know, all the boring stuff!
Loose the faff, bring back the fun, with toepoke.co.uk!
Please direct all press enquiries to press[at]toepoke.co.uk.
comments powered by

Disqus