Build: 1.0.0030
Hi,

Firstly, as you can see we've started recording the changes to the website here.
With our first blog provider shutting down and our second being bought by Yahoo we thought it was time to bring this in house.
With that out of the way, here's a rundown on what's changed in this build.
Features
Less confusion!
One of the biggest changes this time is not something new, but something that's been removed.
Ever since we first released the website we tried to differentiate between two terms; games and matches.
For example your "game" might be every thursday at 6pm, which meant your next 2 "matches" would be Thu, 7th Dec and Thu, 14th Dec.

We thought it was an important difference that mattered, but the last few years has taught us people find it all a bit confusing (and understandably so).
From today "game" and "match" mean much the same thing. You'll now find a new icon on match menu for editing your match template.
Your match template lets you change all the settings for your matches.
Players can see more!
Players can see much more of what's going on, including:
Who else has their name down for a match – useful if you need to arrange a lift?
Who else is in your squad.
You can also see pitch information for running matches ... more on that later!
Past Matches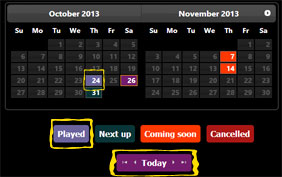 We've always kept a history of matches that have been played (about 3 months worth).
These past matches have been opened and you'll be able to see who played and where, etc. Of course we need a way of being able to get to the matches that have gone:
As you can see the diary has been enhanced to show past matches.
Diary feature is not available on mobile devices, sorry.
Diary Navigation

As a result they'll be lots more matches listed in the diary view so we've added a small widget to move around each match.
Diary feature is not available on mobile devices, sorry.
Avatars!


We've had avatars in toepoke for ages! So why are we going on about them now?
If you don't have an avatar setup, we'll generate a unique Monster for you, rather than the default toepoke avatar.
Notes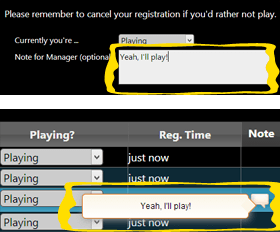 We've done a sweep of the website, adding the ability to write notes where we think it would be useful:
The registration list (showing everyone who's playing on a particular day) now shows any notes the player has entered when putting their name down (see right).
Managers can add notes against members of the squad, perhaps to remind you someone owes some money from a previous match.
Finally we've added the ability to add notes against the reminders that are e-mailed to your players. Useful if you have a work thing on one week and want to remind your squad.
E-mail Preferences
We built toepoke to give you the best chance of having your match go ahead, with everyone turning up and have a great time. One of the ways we do this is by telling you what's happening through the week.
We've had feedback that it e-mails you a bit too much, so we've added an e-mail preferences setting you can tweak.

There are 3 settings; All, some and none.
All – You'll receive all the e-mails you already get; this is still the default setting.

Some – We've pulled this back to the minimum we think you need. For example we won't tell you when you've put your name down.

None – No e-mails about matches will be sent. Useful if you're going on holidays for a few weeks or you have an injury to recover from.

You'll still get password reminder and account related e-mails.
The Little Things
We've also made lots of little changes you may not immediately notice, like ...
Mobile phone contact numbers are listed where appropriate.

You can change this at any time.

A couple of design tweaks.
Changed the saving splashscreen – yup that big purple thing you keep seeing!
The membership screen now shows who nominated a squad member (useful if you can't remember how someone joined).
Previously players couldn't see matches coming up. Now they can and they can say in advance that they won't be playing – useful if you're going on holidays.
How notifications are shown on screen has changed, plus we've added a little prompt to remind people to make sure they aren't on holiday when a match is on.
Fixes
It was possible for a user to associate a social logon with two accounts.
Broken link fix.
Menu icons would sometimes disappear below the accordion
Issue with the squad directory wasn't showing all public squads.
That's all folks!
As always, if I've mucked anything up, please tweet me off! 😉.
Until next time ... may your matches be full of players, and you boots stay laced up.

Team TP.
About toepoke.co.uk
toepoke.co.uk helps organise 5-a-side football games with your mates.
Every week we'll invite everyone and track who can and who can't play.
We'll remind them they're playing, help pick the sides. You know, all the boring stuff!
Loose the faff, bring back the fun, with toepoke.co.uk!
Please direct all press enquiries to press[at]toepoke.co.uk.
comments powered by

Disqus