Build: 1.0.0017
Hi,

It's been almost 4 months since the last set of changes. Apologies for this, but work commitments must come first!
So what's in build 17?
Features
Side Picker Improvements
Following a suggestion the size of text used on the side picker is larger.
Match Summary
When the side picker loads, it now shows a summary of the match we're playing.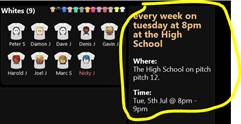 Player Status
We've made it a little easier to see the status of players.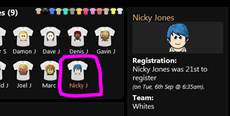 If the player's name is in red this shows they were over-subscribed. So if you play 7-a-side and Nicky here was the 15th person to put their name down, his name will appear in red to illustrate everyone replied before Nicky.
Navigation Improvements
We've added a new way to navigate to your game, simply put toepoke.co.uk/YourGameNumber.aspx into your browser and the site will find your game. To find out what your game number is, simply hover over one of the menu options in the game menu as shown here: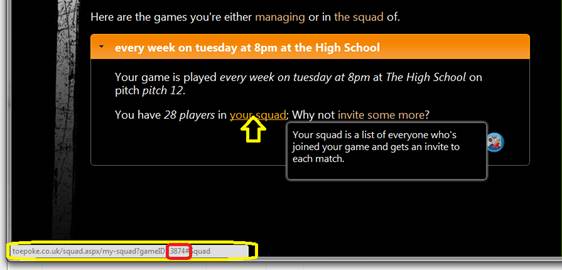 Here we're showing the number for the demo account, so if you put toepoke.co.uk/3874.aspx into your browser the demo game is shown.
If this strikes you as a lot of work when you could just login as normal, you'd be right; it is much more work! So what's the point?
Well, if your squad is public you can easily tell people how to sign up to your game. Perhaps on a small advert at your work, or a text message.
And yes, we do need to make it easier to find out your game number! Next build, we promise!
Little Changes
A player's name can also appear in yellow, which indicates when the side picker was opened this player was On standby. This is useful if you've got lots of players and you want to re-work the sides. This way you don't forget which players were originally on standby.
When clicking the Save & Send button to tell your players the sides for a match you'll be asked to add an optional note to the e-mail your players get. So you'll be able to tell them why sides have changed, or perhaps that you've had to change the pitch you're playing on.
When clicking the E-mail Players button to send a message to your players, you can now elect to use your installed e-mail program rather than use the dialog. Simple click the Outlook button to open in your e-mail program.
With the launch of Google +1, we've added it our social icons at the bottom each page. If you've got two minutes spare, please give us click (you can share us on facebook too if you like 😉).
We've tidied up some of the information screens which were all a little bland on low on information.
Upon logging into toepoke.co.uk you'll now get a rundown of what's been happening on the blog so you can keep up-to-date with the latest features available on the website. Just like the entry you're reading here!
Fixes
The side picking screen sometimes thought there was nobody on a team and wouldn't show them.
On the match registration screen the Add Player dialog Cancel button didn't close the dialog.
It was possible to join another game whilst logged into the demo account, which naturally isn't what was intended.
It was possible to have the same colour of shirts for both sides in a match. We've actually embraced this as you may not care for setting up specific shirt colours for your sides. You may have been playing together for years and it's never been a problem. As a result all we'll do is warn you that you have selected the same coloured shirts for both sides.
Again on the side picker screen, if you click the Cancel button after you've made some changes you will be warned that the changes will be lost.
It was possible to send a reminder whist in the demonstration, which of course makes no sense.
Fixed the e-mail that goes to managers when someone adds their name to a match. It used to say Cancellation when in fact it meant we had more players. No more tutting to ourselves when we think someone has dropped out at the last minute!
The deadline e-mail (which reminds you we're reaching the cut-off point to cancelling a match if needed) didn't give the date of the match (particularly confusing if you play more than once a week).
On the match cancellation screen there was a very small box for putting in a reason why a match is being cancelled. This has been made much bigger and more usable.
On the squad grid and match registrations grid the results weren't being sorted as indicated. This has now been resolved.
If you added a player into a match, they wouldn't appear in the registration grid. This has now been resolved.
Users with JavaScript switched off finally get a warning telling them that TP will work without JavaScript, but it's a better experience with it enabled.
Plus lots of behind the scenes stuff that won't be immediately obvious (or worth mentioning).
That's all folks!
As always, if I've mucked anything up, please tweet me off! 😉.
Until next time ... may your matches be full of players, and you boots stay laced up.

Team TP.
About toepoke.co.uk
toepoke.co.uk helps organise 5-a-side football games with your mates.
Every week we'll invite everyone and track who can and who can't play.
We'll remind them they're playing, help pick the sides. You know, all the boring stuff!
Loose the faff, bring back the fun, with toepoke.co.uk!
Please direct all press enquiries to press[at]toepoke.co.uk.
comments powered by

Disqus