Build: 1.2.0011
Hi,

It's new build time again. So what's change in this version?
Features
Second e-mail addresses
Never let it be said that we don't listen to our users!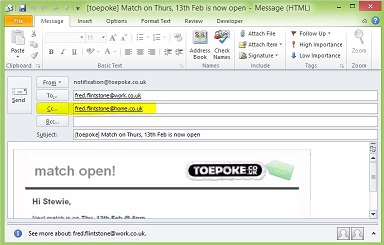 From today you can add a second e-mail address to your profile. Then your communications are sent to both your home and work address. Never miss getting your name down for a match again!

Little tweaks
Avatar at top right hand screen changed to a circle.
Site no longer asks for Date Of Birth, just age to help pick the sides. Age is updated on your anniversary of signing up with toepoke.co.uk.
Fixes
Fixed old links pointing to the HTTP version of the website - updated to use secure HTTPS versions.
Pitch name/number label was breaking over a line on the match template screen.
When validating mobile telephone numbers, international numbers were not taken into account (i.e. +44 ... would be considered an error).
When processing squad applications, if nothing was changed (i.e. a player wasn't changed from pending) no warning was given that nothing had happened when saving. The screen now validates appropriately.
That's all folks!
As always, if I've mucked anything up, please tweet me off! 😉.
Until next time ... may your matches be full of players, and you boots stay laced up.

Team TP.
About toepoke.co.uk
toepoke.co.uk helps organise 5-a-side football games with your mates.
Every week we'll invite everyone and track who can and who can't play.
We'll remind them they're playing, help pick the sides. You know, all the boring stuff!
Loose the faff, bring back the fun, with toepoke.co.uk!
Please direct all press enquiries to press[at]toepoke.co.uk.
comments powered by

Disqus