Build: 1.0.0023
Hi,

It's taken a while, nearly two years, 23 builds, 100+ fixes, tonnes of features and quite a few weekends but I've finally decided to move toepoke.co.uk out of beta and into live.
It turns out it's really quite simple and the release this weekend has the least amount of work of any toepoke.co.uk release ever!
Last week

This week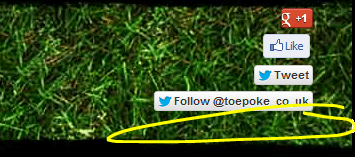 Whilst we've hit this significant milestone 😉 don't think we're taking our foot off the gas. We still have loads of ideas for improving the site, and we'd love to hear yours.
That's all folks!
As always, if I've mucked anything up, please tweet me off! 😉.
Until next time ... may your matches be full of players, and you boots stay laced up.

Team TP.
About toepoke.co.uk
toepoke.co.uk helps organise 5-a-side football games with your mates.
Every week we'll invite everyone and track who can and who can't play.
We'll remind them they're playing, help pick the sides. You know, all the boring stuff!
Loose the faff, bring back the fun, with toepoke.co.uk!
Please direct all press enquiries to press[at]toepoke.co.uk.
comments powered by

Disqus