Build: 1.2.0030
Hi,

A few tweaks and fixes this time, so let's take a look …
Features
You've Got Mail
Not everyone reads the e-mails toepoke sends out (no, really! 😉). This can be frustrating if you've added a note you'd like people to read.
If you add a note, a small indication will be added the subject line, which will hopefully increase the chances of your players reading the content.
[toepoke] Match at Local School is now open (see notes)
Notes Visibility
As you may be aware you can add notes against a member of your squad. This is useful for long standing notes like "Player can't play during school holidays" or "Player can't play at 5:30pm".
You can also record notes for a particular match. The player may say "Will play if you need me" for instance. Both squad and match notes are now displayed against the profile of the player on the side picker screen.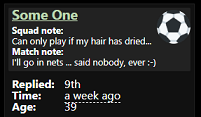 Reset Ratings
Back when the player ratings feature was being developed players would rate after every match. Totals would be averaged over the past few months to give an accurate picture of a player's performance.
Whilst this gave a better picture when picking sides, I felt filling them in each week would get pretty boring, pretty quickly and people would stop doing it.
Whilst it was the right decision to only ask for ratings once, it does mean ratings can become stagnant and a player's ratings may no longer reflect improvements they've made in their performance - or if they've gotten worse!
To counter this, the manager can choose to clear out the ratings so everyone starts afresh, and we get a more accurate picture.

You can also go one step further and reset the ratings at the start of each season, giving a nice compromise of keeping the ratings fresh, but without the pain of filling them in every week.
You can access the reset ratings form from the Reset Ratings button on the Season Stats and Your Squad screens.
Kudos to @markrobbos for suggesting resetting ratings at the start of a new season.
Non Functional Changes
Please review some further amendments to our Web.Helpers.FluentAction.

Upgraded password breach checker to version 2.
Fixes
Sorting wasn't working correctly on the pending invites view
Labels now show the hand to indicate they're clickable (where appropriate)
Side picker showed floating players as contactable, which they aren't - now shows they're a floater
Email address associated with a floater could be reset, which doesn't make sense
When emailing players in a match, floating users were included, which again makes no sense
Exporting teams included email address for a floater, export now includes floater field in the export
Exporting the squad included email address for a floater; again, this makes no sense
Package dependency upgrades
Data archiving could delete data for seasons of 15 weeks
SQL user permissions review
When browsing for games, the map no longer shows by default (due to Google Maps pricing changes)
That's all folks!
As always, if I've mucked anything up, please tweet me off! 😉.
Until next time ... may your matches be full of players, and you boots stay laced up.

Team TP.
About toepoke.co.uk
toepoke.co.uk helps organise 5-a-side football games with your mates.
Every week we'll invite everyone and track who can and who can't play.
We'll remind them they're playing, help pick the sides. You know, all the boring stuff!
Loose the faff, bring back the fun, with toepoke.co.uk!
Please direct all press enquiries to press[at]toepoke.co.uk.
comments powered by

Disqus