Build: 1.0.0024
Hi,

We released a build this week, with just a couple of small changes.
Features
Interactive Tour
If you've logged on recently you may have noticed that the main menu has changed, and there's a new button:

Not sure how a screen works? Click on the new tour button and we'll walk you through things ...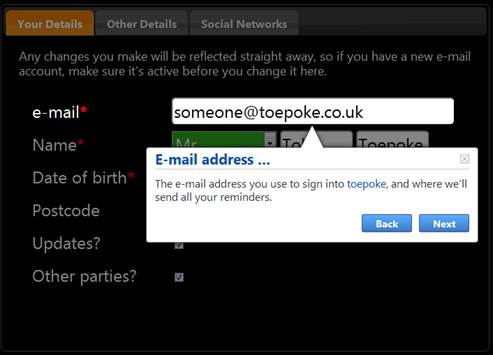 The online demo has had a similar overhaul, walking you through some of the ways toepoke makes organising a game of 5-a-side football so much easier!
Note the 'tour' functionality is not available on mobile devices, sorry.
That's all folks!
As always, if I've mucked anything up, please tweet me off! 😉.
Until next time ... may your matches be full of players, and you boots stay laced up.

Team TP.
About toepoke.co.uk
toepoke.co.uk helps organise 5-a-side football games with your mates.
Every week we'll invite everyone and track who can and who can't play.
We'll remind them they're playing, help pick the sides. You know, all the boring stuff!
Loose the faff, bring back the fun, with toepoke.co.uk!
Please direct all press enquiries to press[at]toepoke.co.uk.
comments powered by

Disqus