Build: 1.2.0005
Hi,

It's new build time again. So what's change in this version?
Features
Full screen width usage
The adverts have been moved to the top of the screen rather than appear at the right hand side.
This gives us the full width of the screen to play with features. So over the coming months we'll have more room to play with.
Who has the best ratings?
The Ratings column on the My Squad screen is now sortable. So you can [finally!] see how good (or bad!) your squad think you are in relation to everyone else.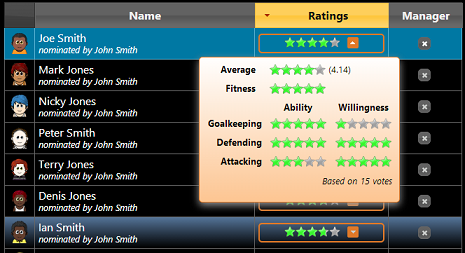 Modify match after it's been played
As pointed our by one of our users, sometimes we make last minute changes, and it would be nice to reflect these after the match.
With today's build, registrations and teams can be updated to reflect any last minute changes. Of course, only managers can make the changes!
Mobile Starter
I've started on a mobile version of the website. You shouldn't see anything at the moment as it is nowhere near complete. I mention it here in case you do see anything strange, it which case please raise it with me.
Fixes
There has been an intermittent issue whereby two e-mails were being sent out. On occasion two matches were being created for the same day and kick-off time.

I believe this is now resolved (I say believe, it's intermittent and therefore difficult to be 100% sure).

The cost of the match wasn't being saved when the pitch parameters were changed.

When editing a pitch error messages were not being displayed on submitting invalid data. Also the Address field wasn't marked as being mandatory in the user interface.

(A little difficult to know why the screen wasn't saving when a) the field isn't marked as required, and b) it isn't showing error messages!)
That's all folks!
As always, if I've mucked anything up, please tweet me off! 😉.
Until next time ... may your matches be full of players, and you boots stay laced up.

Team TP.
About toepoke.co.uk
toepoke.co.uk helps organise 5-a-side football games with your mates.
Every week we'll invite everyone and track who can and who can't play.
We'll remind them they're playing, help pick the sides. You know, all the boring stuff!
Loose the faff, bring back the fun, with toepoke.co.uk!
Please direct all press enquiries to press[at]toepoke.co.uk.
comments powered by

Disqus