Build: 1.0.0027
Hi,
Just a few things in this build. There's a lot of effort in the background for features for the future though!
In the meantime, here's what you can see.
Features
SSL Support
Logging into the website through SSL has been enabled.

Simply ensure that you use https://toepoke.co.uk when navigating to the website.
Once I'm confident all is well, SSL will be turned on by default in the future.
Better Looking e-mails
Since the launch of toepoke I've concerntrated on the design and functionality of the screens you see ever day.
I'm sure you'll agree a redesign of the e-mails is well overdue!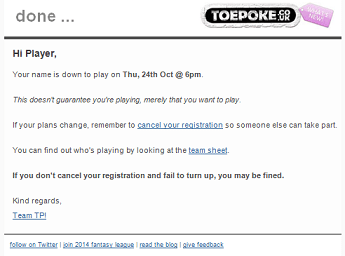 Fixes
The website was sending the provisional sides e-mail out, even though nobody had put their name down!

As an aside I'm intending to remove the provisional sides e-mail as I don't believe it offers much, and the intention is to give better support for managers for picking sides.
That's all folks!
As always, if I've mucked anything up, please tweet me off! 😉.
Until next time ... may your matches be full of players, and you boots stay laced up.

Team TP.
About toepoke.co.uk
toepoke.co.uk helps organise 5-a-side football games with your mates.
Every week we'll invite everyone and track who can and who can't play.
We'll remind them they're playing, help pick the sides. You know, all the boring stuff!
Loose the faff, bring back the fun, with toepoke.co.uk!
Please direct all press enquiries to press[at]toepoke.co.uk.
comments powered by

Disqus