Build: 1.2.0022
Hi,

A few tweaks and fixes this time, so let's take a look …
Features
Squad sign-ups
The Outstanding Invites screen now shows players who been added to your squad, but haven't confirmed their e-mail address.

These players won't be getting the invites to your matches, but at least now you know and you'll be able to prompt them to get their account confirmed.
Season statistics enhancements
A few additions to the season screen giving a little more insight to the Man of the Match feature.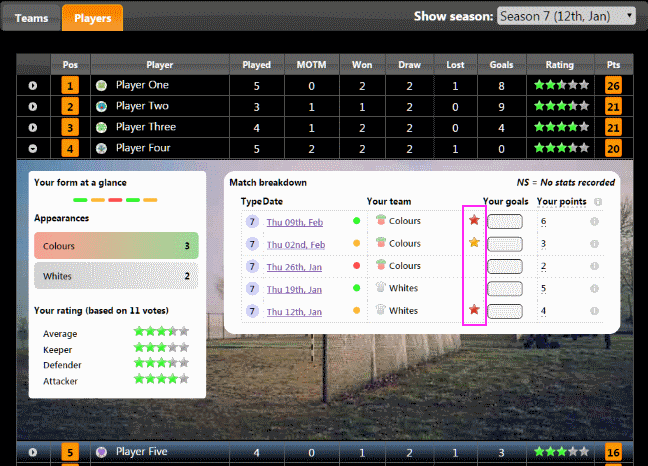 The red badge shows how many votes the player got for being MOTM (just hover over the star to see how many)
There's an amber badge too, which shows you were voted for MOTM, but didn't get the most votes (again, just hover over the star to see how many votes you got)
Clicking on the match date will take you to the dashboard for that match
On a related point, the team table also shows how many votes the MOTM got for a particular match
Little tweaks
Players are awarded a bonus point for adding their MotM vote after a game

Increased size of pages from 10 to 20 items - a minor improvement for this suggestion

Offline and error pages weren't responsive - mobile version showed desktop version

Squad export now includes notes attributed to a squad member

The teams picker screen now has an Export Teams option - which is useful for tracking payments (until I finally get payments sorted!)

Export squad feature now includes any notes attributed to a member

You can click on images in the change log to see the bigger version
Fixes
GMail button fix

On mobiles the reminder message wasn't very easy to read - improved contrast

Text version of e-mails we're working

Notes on who's playing screen weren't being shown on mobile version

Manifest.json file was saved with BOM signature - caused issues with validators

Floating members were being flagged for deletion after 12 months of not logging in - of course they haven't logged in! 😉
That's all folks!
As always, if I've mucked anything up, please tweet me off! 😉.
Until next time ... may your matches be full of players, and you boots stay laced up.

Team TP.
About toepoke.co.uk
toepoke.co.uk helps organise 5-a-side football games with your mates.
Every week we'll invite everyone and track who can and who can't play.
We'll remind them they're playing, help pick the sides. You know, all the boring stuff!
Loose the faff, bring back the fun, with toepoke.co.uk!
Please direct all press enquiries to press[at]toepoke.co.uk.
comments powered by

Disqus