Build: 1.2.0002
Hi,

It's new build time again. So what's change in this version?
Features
Player ratings
At toepoke we reckon the best football games aren't the ones where a team wins 10-0 but the close games. The ones where you come from behind and win 4-3.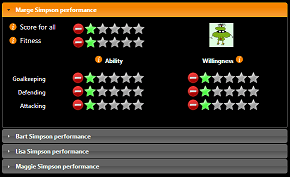 To help make your teams more even we'll gather votes from the players. After your match has finished, you'll be asked to rate your teams performance in:
Fitness
Goalkeeping
Defending
Attacking
Fitness is a general rating, but goalkeeping, defending and attacking all have two settings.
Ability

How good someone is in nets, scoring, etc.
Effort

How keen is a player to take their turn in nets, tracking back, etc.
You're only asked about the players on your team rather than vote for everyone in the squad. It would be more than a little demoralising to rate upwards of 70 people in one go!
Team Performance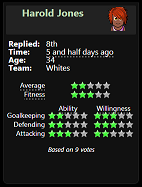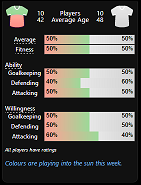 Your score
Of course you'll want to know how players have rated you 😄. You can find out your score at any time from the My Squad listings:
Navigate to the squad dashboard.
And click the my squad icon.
You can post your score on Facebook and Twitter too!
Your ratings are updated each night.
The Little Things
Fixes
Error generated when sorting by telephone number on squad list screen.

On the side picker screen the Save & Send option is no longer available until after the deadline has passed.

This makes sense (certainly from a player perspective) otherwise we'd be committing people to playing before they've had chance to drop out if they need to.

You may noticed a bit of a lag when receiving e-mails from toepoke. This should now be fixed and you should get them more or less straight away.

Managers can now still e-mail players that were involved in a match that has been played. Useful if someone forgot to pay their share for the match.

A bug was introduced on the squad screen, when a manager was adding a player into a match.

There should be a search box for filtering who to add, but this went missing. This has been put back in place.

In the e-mail dialog on the side picker screen there was a bug when trying to move players between the TO, CC & BCC tabs. This has been fixed.

When inviting new players, the Squad Picker function had stopped functioning. This should now be resolved.
That's all folks!
As always, if I've mucked anything up, please tweet me off! 😉.
Until next time ... may your matches be full of players, and you boots stay laced up.

Team TP.
About toepoke.co.uk
toepoke.co.uk helps organise 5-a-side football games with your mates.
Every week we'll invite everyone and track who can and who can't play.
We'll remind them they're playing, help pick the sides. You know, all the boring stuff!
Loose the faff, bring back the fun, with toepoke.co.uk!
Please direct all press enquiries to press[at]toepoke.co.uk.
comments powered by

Disqus